Yamaha EAD10 Electronic Drum Module
YamahaSKU: 2763
---
$749.00
RRP $829.00
SAVE $80.00
Sold Out - Backorder Available
The EAD10 simplifies a complicated setup that typically requires microphones, cables, mixers and PA expertise. Just attach the EAD10 sensor unit to any acoustic bass drum and you have a high-quality stereo image of your entire kit. And it instantly transforms your acoustic drum kit into a powerful digital/electronic hybrid with sampled sounds and studio quality digital effects. It allows you to play and record your acoustic drums along with your favorite artists from your music library or from tracks from your friends and sha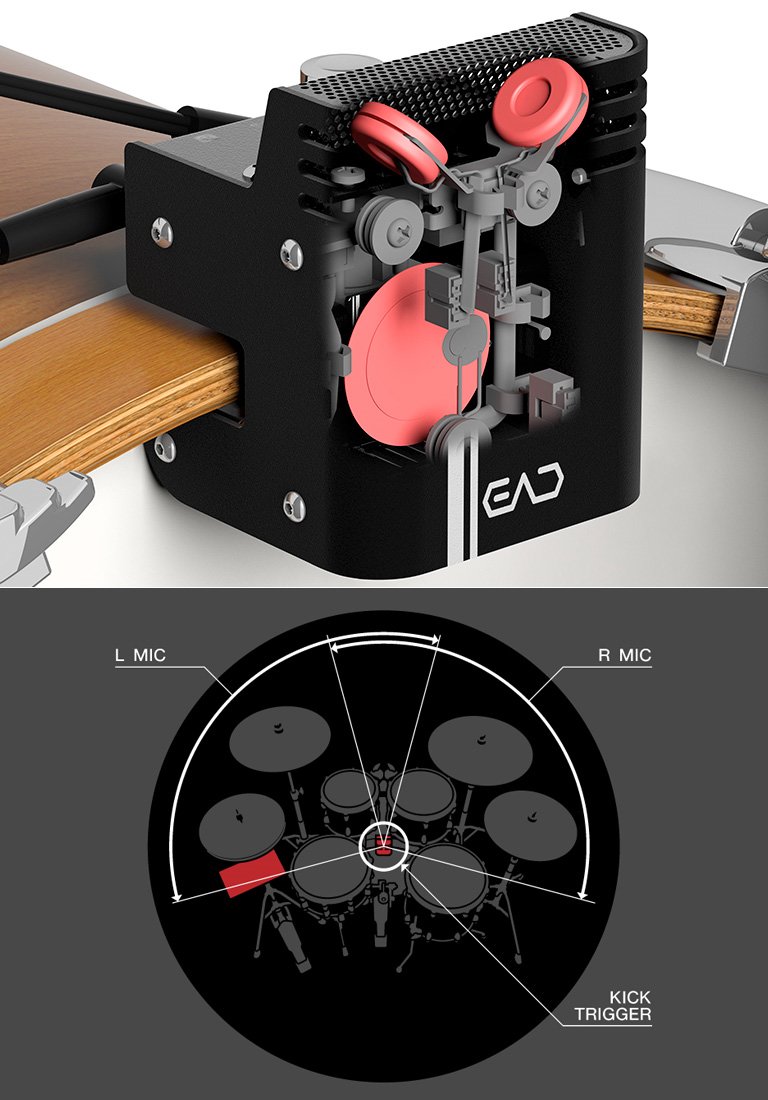 The Sensor Unit
The sensor unit of the EAD10 comprises a specially developed XY stereo microphone sensor and trigger sensors, allowing you to capture a balanced recording of the sound of the entire kit by placing this at the center of the kit itself.
The microphone capsule is a newly developed microphone that comes equipped with the ultra-high sound pressure resistance and strong noise resistance suitable for recording drums. The entire sensor unit, including the grill that covers the microphone capsule, incorporates an acoustical design that allows for the adjustment of directivity and frequency characteristics. The preamplifier is equipped with custom parts, and the mic itself is designed to draw out the maximum dynamic range of a drum kit while achieving the balance ideal for recording, allowing for clear and dynamic sounds.
Additionally, the range of sounds that can be created has been greatly expanded by using the trigger sensor to combine bass drum sounds with a PCM sound source.
The EAD10 has achieved both simplicity and quality by combining the technologies that could only be developed by a comprehensive manufacturer well versed in both the characteristics of instruments and microphones.
The main unit of EAD10 is designed with ease of use in mind.
The left side of the main unit comes equipped with large knobs that can easily be adjusted mid-performance, so that the main control functions like volume and preset scene can be accessed easily. LED indicators have been added to the preset scene controls of reverb, effect, and trigger to make them more visible. This allows for understanding of current settings as well as quick and intuitive adjustment on even the darkest of stages. The buttons and LCD display on the right allow for even more detailed adjustments.
Additionally, a high-performance headphone amplifier was also developed specifically for this unit, and delivers power and performance that cannot be outdone by the dynamic sounds of acoustic drums.
It also comes equipped with many high-quality effects and PCM sound sources used in Yamaha electronic musical instruments. Furthermore, by using the trigger sensing technology from electronic drums, it creates added value for acoustic drums, making them into a completely new musical instrument.
re them digitally.
With the free iOS/Android app you can shoot, edit and upload videos of your drum performances.
The EAD10 enhances every aspect of your drumming – the way you practice, record and perform live and makes your acoustic drums do more.