The world-class concert grand, Yamaha CFX Voice
The Yamaha flagship 9' CFX concert grand piano, offers sparkling highs and a powerful resonant bass combined in a sound that projects to the furthest reaches of any concert hall.
Enjoy every bit of that expressive control with the DGX-670.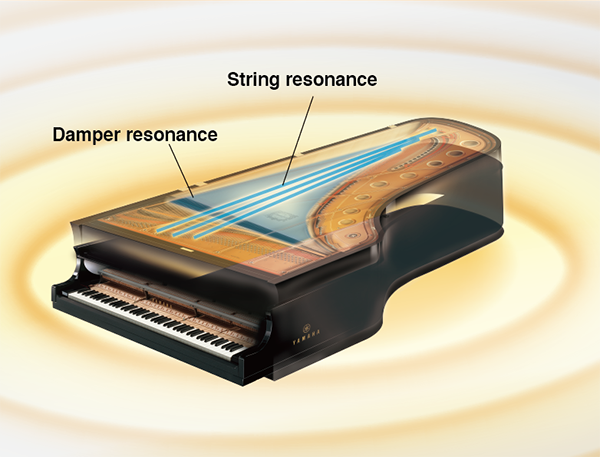 Virtual Resonance Modeling (VRM)
In a grand piano, strings and sounds resonate throughout the entire body of the instrument producing a rich reverberation that envelops the listener in sound. Not only are the strings you are playing vibrating, but other strings ring as a reaction to ones you play. This is one reason the piano sound is so complex and rich.
This phenomena is reproduced perfectly in the DGX-670 through Virtual Resonance Modeling (VRM) which calculates the various states of the strings for each of the 88 notes on the keyboard from one instant to the next. As a result, the DGX-670 reflects the limitless number of factors inherent in playing an acoustic piano such as which keys are pressed, the strength with which the keys are played and pedal timing.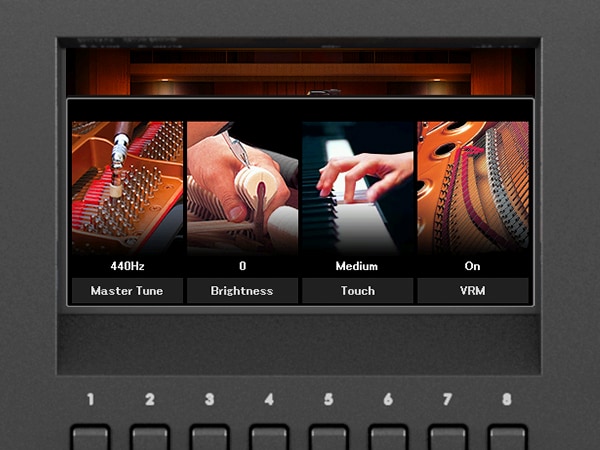 Customize your piano playing experience
Simple and intuitive controls let you choose from different piano and instrument Voices.
Try the acoustics in a rehearsal room, on a stage, in a cathedral, and other venues, and experiment with how far to open the grand piano lid to gain a feel for the subtle differences in sound.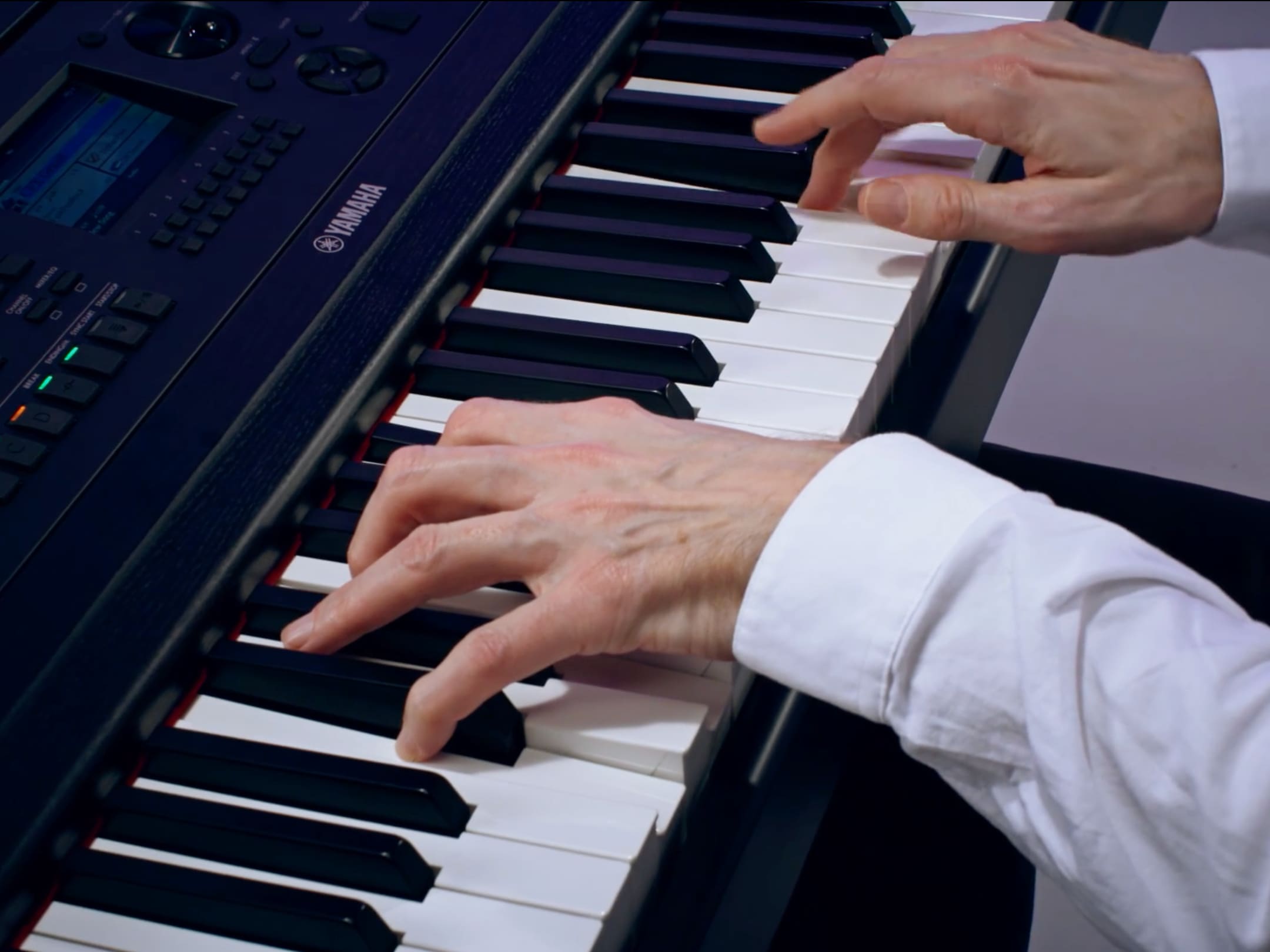 Authentic piano touch, 88-note weighted GHS keyboard
The Yamaha Graded Hammer Standard (GHS) keyboard features a weighted action with heavier touch in the low end and lighter touch in the high end, just like the hammers inside an acoustic piano. Great for the aspiring pianist, practicing on the GHS action builds the proper finger technique and strength for when the time comes to perform on an acoustic piano.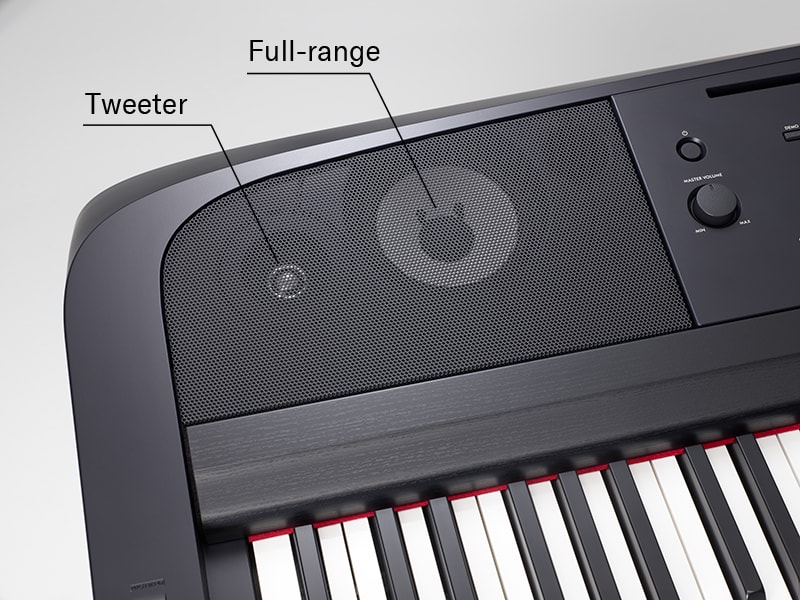 Powerful speaker system
The two-way system features round 12-cm speakers for impressive mid and bass, and a tweeter for dazzling treble. The piano sound is designed to feel immersive from the bench, and the accompaniment is optimized for impact.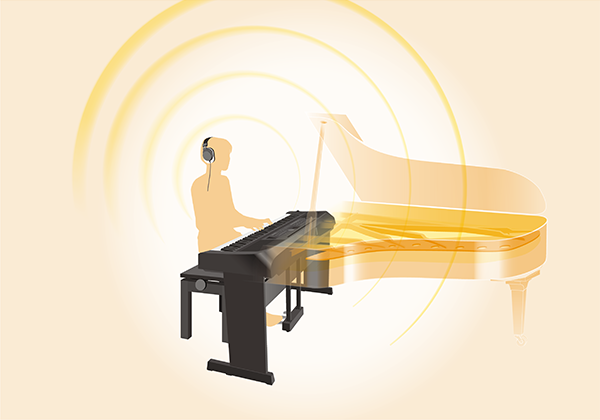 The Stereophonic Optimizer—a new kind of headphone experience
When using headphones, the Stereophonic Optimizer lets players enjoy the dispersed sound heard when sitting in front of an acoustic piano. With the Stereophonic Optimizer, Voices sampled from acoustic pianos appear to come from the body of the instrument. This provides a comfortable, natural experience that removes the drawbacks of performing with headphones.
Adaptive Style - Accompaniment that automatically adjusts to your playing intensity.
The DGX-670 is equipped with Adaptive Style, a function that automatically analyzes your playing in real time and arranges accompaniment to suit the mood of the music. Play with more intensity, and Adaptive Style ramps up the accompaniment; switch to a mellower mood, and the Adaptive Style mellows out along with you. The accompaniment joins you wherever you are at any given time, giving every tune the thrilling feel of a live performance.
Simple Style - Minimal accompaniment for a simpler sound
When you want to make things simpler and highlight the instrument Voice you're playing, one push of a button is all it takes to strip the accompaniment down to rhythm and bass.
Smart Chord - Pro chords, played simply!
Smart Chord makes you sound like a pro, even if you're just learning how to play. With a single finger on your left hand, Smart Chord will create entire chords from simple pop triads to complex jazz 7th and 9th chords. Accompaniment Styles create the rest of your virtual band so you can get straight to playing music.
Unison & Accent
Unison & Accent are functions that open up a wide array of expressive capabilities.
With Unison, you play a phrase while pressing the foot pedal, making the accompaniment Style play in unison with you. This lets you perform signature lines found in iconic songs or create your own signature licks for the whole band to follow.
Accent lets you add rhythmic "shots" to accentuate notes of your choice simply by playing a little harder.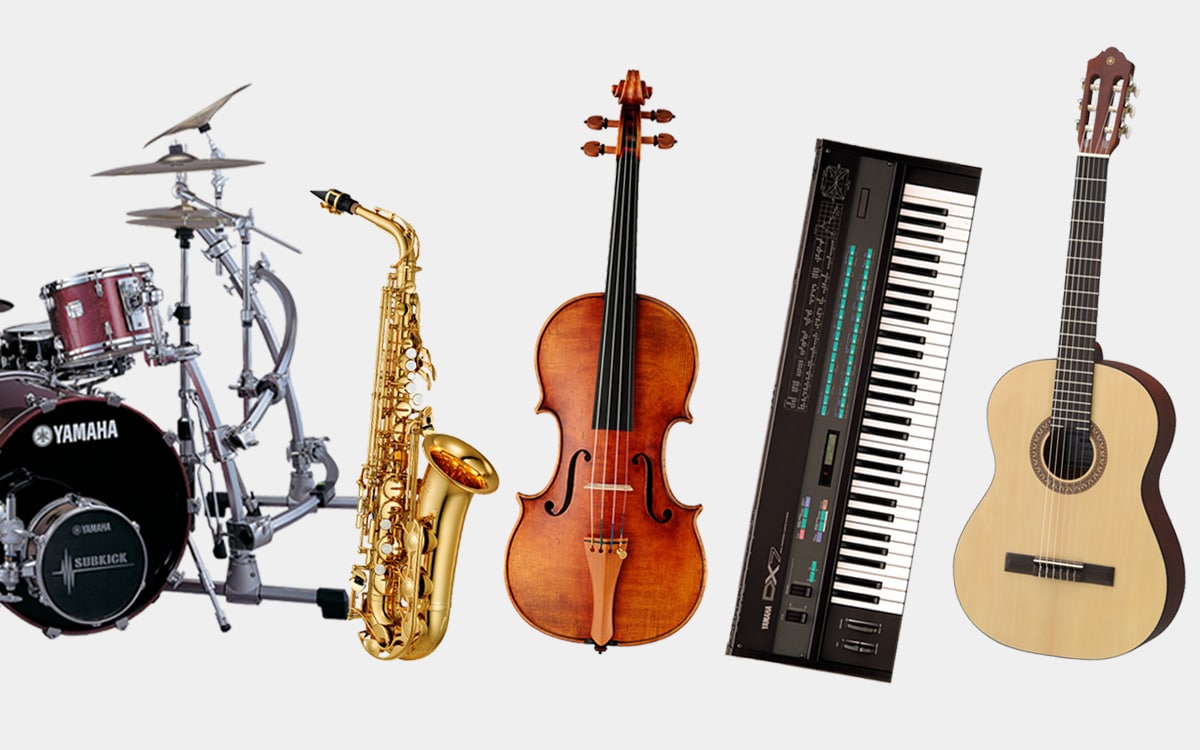 630 high-quality instrument Voices
Equipped with 630 varied, high-quality Voices including stunning pianos, electric pianos, organs, brass, strings, percussion, and more. From breathy saxophones to ringing guitars and warm, resonant strings, the DGX-670 impressively replicates sounds down to the finest nuances. Thanks to acclaimed Super Articulation technology, the distinctive characteristics of each instrument are reproduced in incredible detail as you play.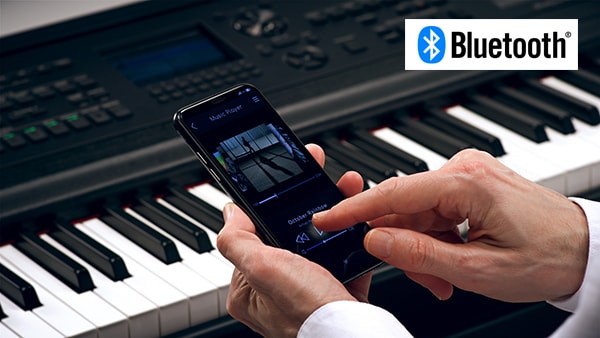 Connect wirelessly for Bluetooth® audio
You can play music through the audio system on the DGX-670 by using a Bluetooth-enabled smart device. Enjoy playing along with your favorite songs directly from your smart device!
*Availability of Bluetooth Audio function varies by country.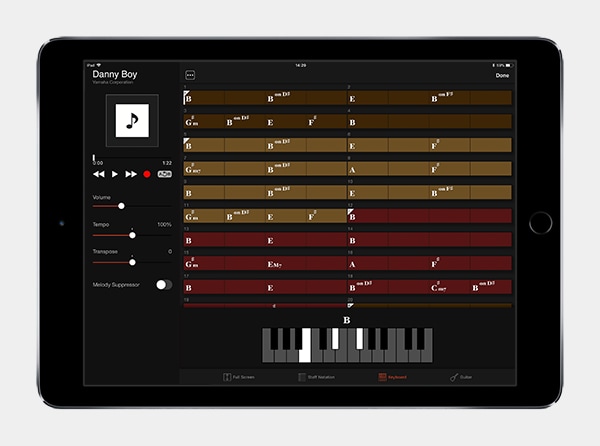 Identify the chords in your favorite songs using the Chord Tracker app!
The Yamaha Chord Tracker app for smart device helps practicing and performance by extracting the chord sequence of an audio song stored on your device.
* Not compatible with songs from subscription services or streaming services. Song files must be owned.
Plug-in a microphone for karaoke or singing while you play
Since a microphone can be connected to this instrument and Song lyrics can be shown on the display, you can enjoy singing along with your keyboard performance or along with Song playback. Moreover, you can apply various studio-quality effects such as chorus to your singing voice. You can also cancel the vocal part on audio recordings, letting you sing along with (or instead of!) your favorite artists and groups, and enjoy performing even more.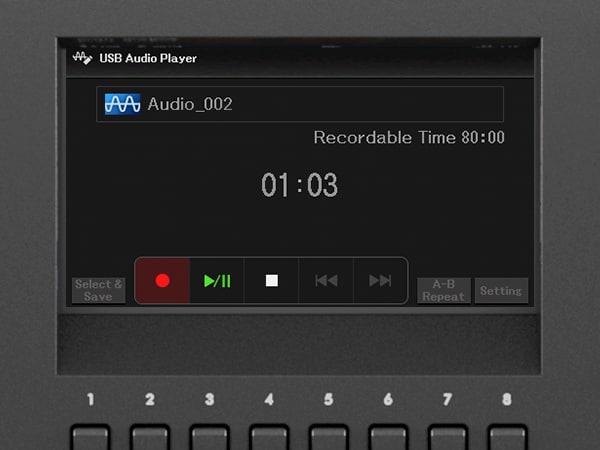 Audio Play & Recording
Audio files (WAV format) saved to a USB flash drive can be played back on the instrument. You can also record your performance as audio files to a USB flash drive–making it easy to edit your recordings on computer as desired, and share them over the Internet.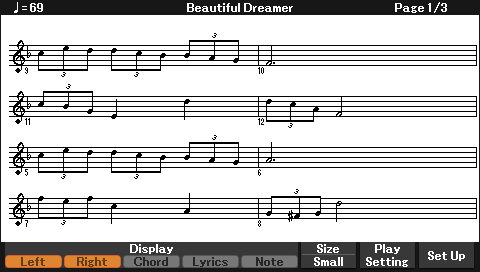 Lesson features
The Lesson features are a fun way to learn and master Songs, with notation shown on the display. For example, when you practice the right-hand part, the playback of the left part and other parts will wait for you to play the notes correctly. This allows you to practice melodies and phrases smoothly—even if you are a beginner.
Specs
Size/Weight
Dimensions

Width

1,397mm (55") /with keyboard stand 1,399mm (55-1/16")

Height

146mm (5-3/4") /with keyboard stand  761mm (29-15/16")

Depth

445mm (17-1/2") /with keyboard stand  445mm (17-1/2")

Weight

Weight

21kg (46 lbs. 5 oz.)/with keyboard stand:28kg (61 lbs. 12 oz.)
Control Interface
Keyboard

Number of Keys

88

Type

Graded Hammer Standard(GHS) keyboard

Touch Response

Soft, Medium, Hard, Fixed

Other Controllers

Pitch Bend

Yes

Display

Type

Full Dot LCD

Size

320×240 dots

Color

Monochrome

Contrast

Yes

Score Display Function

Yes

Lyrics Display Function

Yes

Language

English

Panel

Language

English
Voices
Tone Generation

Piano Sound

Pure CF Sound Engine

Damper Resonance

Yes

Polyphony

Number of Polyphony (Max.)

192

Preset

Number of Voices

151 + 15 Drum/SFX Kits + 388 XGlite

Featured Voices

1 Natural! Voice, 10 Live! Voices, 11 Sweet! Voices, 7 Cool! Voices

Compatibility

GM

Yes

XGlite

Yes
Effects
Types

Reverb

41 types

Chorus

44 types

DSP

237 types

Master EQ

5 types

Intelligent Acoustic Control (IAC)

Yes

Functions

Dual

Yes

Split

Yes

Panel Sustain

Yes (Function Menu)
Accompaniment Styles
Preset

Number of Preset Styles

205

Fingering

Multi Finger, Full Keybord, AI Fingered

Style Control

INTRO, MAIN x 2, FILL-IN x 2, ENDING

Other Features

Music Database

320

One Touch Setting (OTS)

Yes

Style Recommender

Yes

Smart Chord

Yes

Compatibility

Style File Format (SFF),Style File Format GE (SFF GE)
Songs
Preset

Number of Preset Songs

100

Recording

Number of Songs

5

Number of Tracks

6

Data Capacity

Approx. 30,000 notes for 1 user song

Compatible Data Format

Playback

SMF (Format 0, Format 1), XF

Recording

SMF (Format 0)
Functions
Registration

Number of Buttons

4 ( x 8 banks )

Lesson/Guide

Yamaha Education Suite (Y.E.S.)

Waiting, Your tempo, Minus one, Repeat & Learn, Chord Dictionary

Demo/Help

Demonstration

Yes

Overall Controls

Metronome

Yes

Tempo Range

5 - 280

Transpose

-12 – 0 – +12

Tuning

415.3 - 440.0 - 466.2 Hz

Miscellaneous

Piano Room

Yes

Audio Recorder/Player

Recording Time (max.)

80 minutes/Song

Recording

WAV (44.1kHz, 16bit, stereo)

Playback

WAV (44.1kHz, 16bit, stereo)
Storage and Connectivity
Storage

Internal Memory

Approx. 1.7 MB

External Drives

USB Flash Memory

Connectivity

DC IN

12V

Headphones

x 1 (Standard stereo phone jack)

Sustain Pedal

Yes

Pedal Unit

Yes

Microphone

Yes (Standard phone jack)

AUX IN

Yes (Stereo mini jack)

USB TO DEVICE

Yes

USB TO HOST

Yes
Amplifiers and Speakers
| | |
| --- | --- |
| Amplifiers | 6W x 2 |
| Speakers | 12cm x 2 + 5cm x 2 |
Power Supply
| | |
| --- | --- |
| Power Supply | Adaptor (PA-150 or an equivalent recommended by Yamaha) |
| Power Consumption | 13 W |
| Auto Power Off | Yes |